Powering Inclusive Cultures: Why Measurement Matters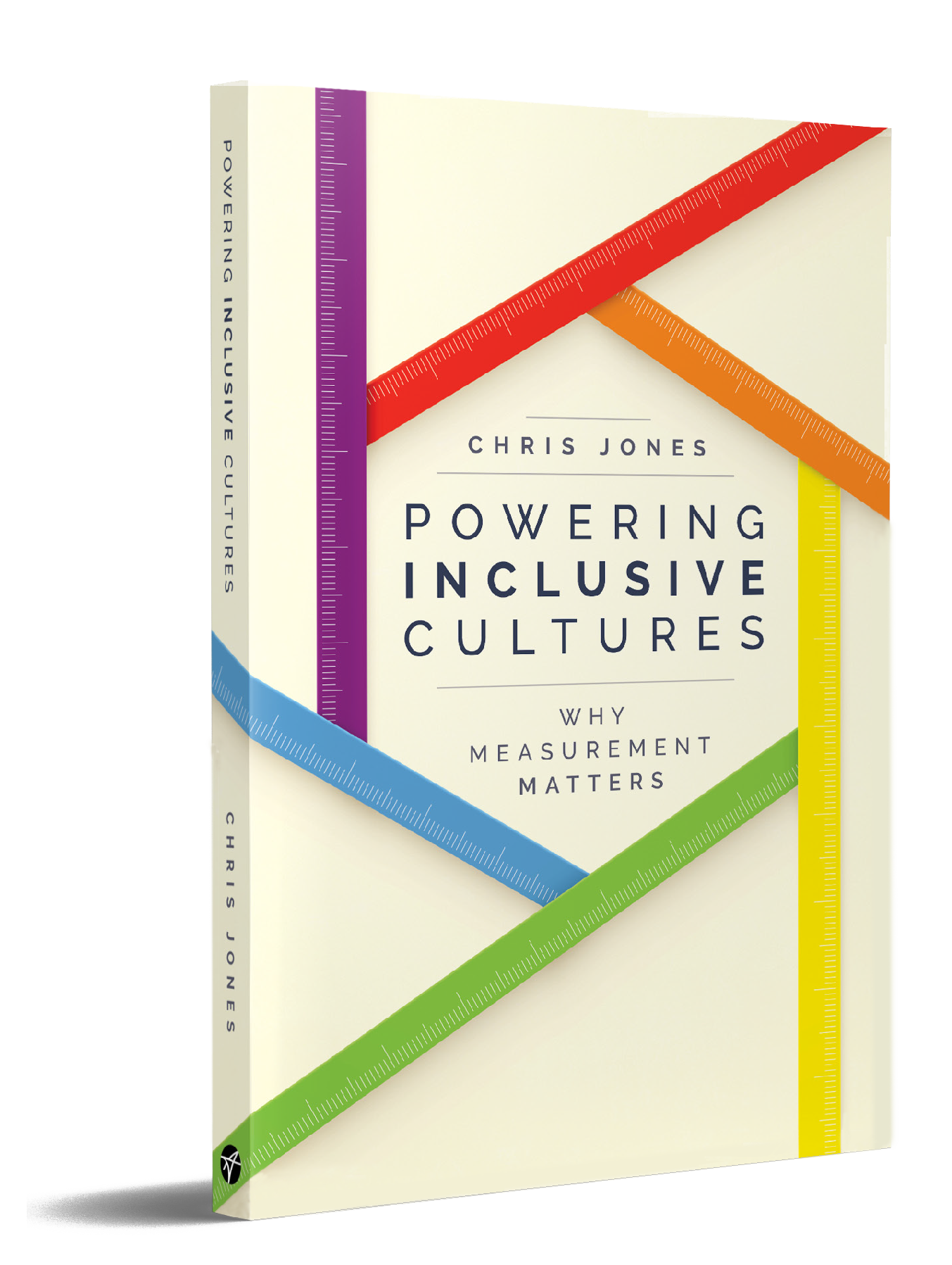 Get Started with Data-driven DEI Strategies
Spectra Diversity's CEO, Chris Jones has written a powerful new book called Powering Inclusive Cultures to help you understand the importance of measurement in your diversity, equity and inclusion work.
She shares helpful tips, useful activities, and of course lots of data as she delves into lessons she has learned through decades of dedicated DEI work.
Through case studies, learning activities and DEI data, readers learn why measurement is important to the task of creating real organizational change.
Small and medium sized organizations are competing for talent with large organizations. In that competitive world, having an inclusive and welcoming organization is a must have—not a nice to have. Powering Inclusive Cultures is an excellent book to find out what needs doing in terms of diversity, equity and inclusion—and how to do it. Begin with measurement, so you can track your progress. Until then, you don't know what you don't know."

—Julie Kratz, Author, Allyship in Action
What You Will Learn
Whether you're a CEO striving to make your organization more inclusive or a C-suite executive looking to lead by example, this book provides the essential guidance to foster a diverse, equitable, and inclusive culture that benefits both employees and the bottom line.
Each chapter covers critical topics, supported by the results of thousands of DEI employee and organizational assessments done using the Spectra Diversity Inclusion Assessment.
Chapter 1: Where do we Start?
Discover why relying solely on bias training falls short, and get effective tools to enhance resilience and propel DEI progress in a positive direction.
Chapter 2: Are you measuring what matters?
In any organization, the pursuit of diversity, equity, and inclusion (DEI) is an ongoing journey. Explore the significance and consequences of diversity (pertaining to hiring), equity (related to compensation and promotion), and inclusion (concerning employee retention).
Chapter 3: How do you drive change in your organization? 
Business leaders who aspire to foster an inclusive culture within their organization must begin with themselves, anchoring strongly in the values of resilience, emotional intelligence, and trust.
Chapter 4: Do all genders feel respected and heard?
While our brains are naturally inclined to categorize people, it's essential to recognize that gender doesn't fit into a binary framework. Gender exists along a spectrum. Discover why leaders embracing a growth mindset perceive the nuances between the traditional black-and-white perspectives.
Chapter 5: Are people of color underrepresented in your company?
Race is a social construct, and it's possible for a company to inadvertently convey that whiteness is valued and given preference. Delve deeper into this chapter to gain insights into common microaggressions and what they could be unintentionally signifying to your employees.
Chapter 6: Are people of all sexual orientations welcome here?
Just as with gender, sexual orientation exists along a spectrum and isn't a matter of choice. Despite the increasing awareness and acceptance, there can still be misconceptions about sexuality that affect your LGBTQ+ employees. Our roadmap is designed to provide guidance and support in addressing these issues.
Chapter 7: Are you providing accommodations for people with neurodiversity and disability?
In order to enact the necessary systemic changes within organizations and society as a whole, it's imperative that individuals with disabilities are granted equal access to the resources and influence required to fully express themselves. Explore how you can contribute to realizing this objective.
Chapter 8: Are you undervaluing your older and younger employees?
While age discrimination tends to affect older individuals more frequently, those on the younger side can also face derogatory comments and inappropriate "jokes." Discover effective strategies to counteract this subtle yet commonly tolerated form of discrimination.
Chapter 9: Where are all the Veterans? According to our data, those with the most favorable perceptions of management and organizational policies are male, but right behind them are Veterans and active duty military personnel of all genders. Why? Case studies and data tells the story.
DEI activities included in the book can be downloaded (with an answer key)  from the author's website: ChristineLJones.com.
Order Powering Inclusive Cultures: Why Measurement Matters
Order today and gain a profound understanding of DEI's significance, debunk common misconceptions, and become equipped with the knowledge and strategies needed to drive meaningful change in your business.
Support your local, independent bookstore and order Powering Inclusive Cultures with the ISBN:
ISBN-10: 9781642255607 ISBN-13: 978-1642255607