How (and Why) to Use the Spectra Diversity and Inclusion Assessment Tool
The Spectra Assessment may be used alone or in conjunction with any other diversity and inclusion tool such as the IDI, Cultural Quotient, IES, CVA or the Catalyst Inclusion Accelerator. See how we compare.
The benefit of the Spectra Assessment's dual nature is that diversity and inclusion professionals can see the complete picture in terms of where the organization is on key D&I measures.
The Spectra Assessment enables D&I consultants and other professionals to evaluate both the 'outer ring' (Management, Culture as well as the Policies, Practices and Procedures (3Ps) in addition to the 'inner ring' of Individual Beliefs and Interpersonal Skills.
By looking at both the inner and outer rings it is possible to see the entire D&I picture and understand what strategies may have the greatest impact. Schedule a demo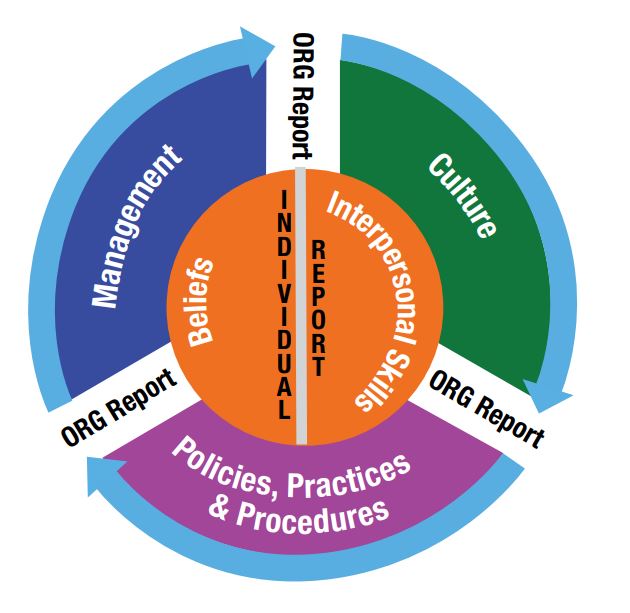 Help Interpreting the Data (Consultation Support)
As a service to our Enterprise, Change and Association Partners, we offer a free consultation and data interpretation session to interpret the Demographic and Enhanced Data Analysis reports. That way, you can devise a starting point for a customized D&I intervention and get the results your clients are looking for. Additional consultation sessions, if needed, are also available at a reasonable hourly rate.
Get More with The Spectra Assessment
As with any cultural awareness assessment, the Spectra Assessment includes a rich set of features as well as a few custom options. Standard features include:
Five demographic items
31 diversity and inclusion statements
Two open-ended questions (Incorporates the power of qualitative data)
An Individual Report for each participant (Immediate or delayed distribution to accommodate near or long-term training plans)
An Organization Report for the Enterprise or Change Partner
View a Sample Individual Report
View a Sample Organizational Report (Construction Industry)
View a Sample Organizational Report (Financial Industry)
Custom Organization Report Options include: