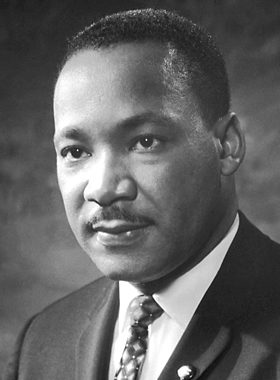 Racism and Religion
Spectra Diversity's white paper "It Isn't a Black & White Issue: Racial Bias in the United States" was widely shared and requested. Why? Maybe because racism, Black Lives Matter, school segregation (white flight), DACA and hundreds of other issues are front and center in today's culture.
On Reverend Martin Luther King Jr. Day, we are reminded both of how far we've come and of how far we have to go.
MLK Day has been reimagined as a day of service so it is a Day ON, not a Day OFF. There are many ways you can participate in the annual Martin Luther King, Jr. Day of Service. You can join a project already planned in your community; you can develop your own project with family, friends, and neighbors; or if you work for an organization that mobilizes volunteers, you can make King Day the day you train new volunteers to be deployed throughout the year.
"There is no such thing as separate but equal. Separation, segregation, inevitably makes for inequality." Reverend Dr. Martin Luther King Jr.
The Slave Bible
There is a small volume, 15 by 11 by 4 inches, on display on the ground floor of the Museum of the Bible in Washington D.C.  It was published as "Parts of the Holy Bible, Selected For the Use of the Negro Slaves, in the British West-India Islands" in London in 1807 on behalf of the Society for the Conversion of Negro Slaves. It was essentially a missionary book used to teach people how to read, while introducing them into the Christian faith.
The so-called Slave Bible, on loan from Fisk University in Nashville, Tenn., excludes 90 percent of the Hebrew Bible, or Old Testament, and 50 percent of the New. Its pages include "Servants be obedient to them that are your masters," from Paul's letter to the Ephesians, but missing is the portion of his letter to the Galatians that reads, "There is neither bond nor free … for ye are all one in Christ Jesus."
According to NPR:
Absent from that Bible were all of the Psalms, which express hopes for God's delivery from oppression
Absent was the entire Book of Revelation
The Book of Exodus excludes the story of the rescue of the Israelites from slavery in Egypt, the liberation that gives the biblical book its title
Exodus Chapter 19 and 20 are included, where God appears at Mount Sinai and he gives his laws, so the Ten Commandments are included.
The Museum of the Bible, which opened in 2017, reports that the Slave Bible is its most popular exhibit, and frequently people find it disturbing.  Anthony Schmidt, is associate curator of Bible and Religion in America at the museum.
"From the very beginning people have been shocked to see it," Schmidt says. "It's drawn a lot of interest. In fact, of all the items we have on display here it's probably been the most talked about among our guests."
The 430,000-square-foot Museum of the Bible is the largest privately-funded museum in the city. It may be worth noting that a big part of that money comes from the conservative Christian family-run company, Hobby Lobby.
Race and Neuroscience
The Spectra Diversity and Inclusion Training and Facilitation Kit contains a great deal of information about the neuroscience of implicit bias, and also about race and privilege. Here are some highlights:
By age three we have developed a preference for our "in-group" (people like us – our race).
Once established, our preferences are hard-wired into our brains as implicit bias.
Automatic signals from the amygdala—gut feelings—underlie racial bias.
Implicit bias can be measured. Take Harvard's Implicit Association Test (IAT) to see where you may have bias. It's free and we recommend it.
A study which used propranolol (to reduce anxiety) showed that males who took the drug showed significantly less subconscious bias in their amygdala.
In a recent survey:

49% of people said that the biggest obstacle to defeating bias is the reluctance to admit they have a bias
5% felt that the biggest obstacle is the fact that the bias is unconscious
46% of respondents felt that the biggest obstacle to defeating unconscious bias is not knowing what steps to take to make it happen.
By gaining an understanding of how the human brain works, one can become more aware of the unconscious processes taking place in the brain when formulating opinions and making decisions. While implicit and unconscious bias exists in everyone, through concerted effort, the impact of unconscious bias can be diminished by increasing awareness and facilitating changes in how we think and behave.
Source: NPR, "Slave Bible From The 1800s Omitted Key Passages That Could Incite Rebellion," Michel Martin, Dec. 9, 2018
Source: Psychology Today, "The Neuroscience of Racial Bias," Joshua Gowin, Ph.D., Aug. 20, 2012